---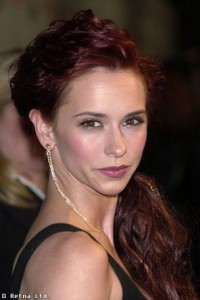 Výška:1,59m
Jennifer Love Hewitt sa narodila 21. Februára 1979 vo Waco,Texas,USA.Svoje prvé meno (Jennifer) dostala od svojho staršieho brata Todda , ktorý jej ho vybral podľa malého blondavého dievčaťa.Jej mama  jej vybrala prostedné meno Love.Mama sa volá Pat a pracuje ako patologička a jej otec Danny je lekársky odborník.Rodičia sa rozviedli ked mala 6 mesiacov. Z Waco sa  s matkou presťahovala do Marker Heights.Svoj prvý oficiálny album nahrala ked mala tri roky a spievala v livestockovej show.V piatich chodila na hodiny jazzu a baletu.V desiatich sa jej rodina presťahovala L.A. a s podporou jej rodiny šla na talentové skúšky, ked jej brat začal chodiť vysokú školu v Texase.Jennifer si rýchlo našla "komerčnú" prácu a dostala rolu vo filme "Združenie detí" (1984). Išla cez neúspešné televízne seriály až do kým si nezahrala v slávnej komédii Garfield.
za preklad životopisu dakujem Kiak (www.kelly-skakira.estranky.cz)
Jennifer Love Hewitt uzrela svetlo sveta 21. februára 1979 v texaskom mestečku Waco, v Spojených štátoch. Jennini rodičia Pat a Danny pracujú v oblasti zdravotníctva. Rozišli sa, keď mala Jenn iba necelých šesť mesiacov. Meno jej vybral starší brat Todd, ktorý bol v detstve zaľúbený do menovkyne s blonďavými vlasmi. Hewittová vyrastala v Harker Heights, kde sa po rozvode rodičov usadila s matkou Pat. Svoje prvé živé vystúpenie si odkrútila v troch rokoch. Veľmi sa jej to zapáčilo a o hereckom smerovaní malej Jenn nebolo viac pochýb. V piatich rokoch začala navštevovať hodiny stepu, jazzu a baletu, čo ju priviedlo až ku skupine Texas Show Team, ktorá cestovala po Európe a krajinách bývalého Sovietskeho Zväzu.


Keď mala Hewittová desať rokov, rodina sa presťahovala do Los Angeles vďaka tvrdeniu rôznych skautov, že Jenn má skutočne obrovský potenciál. Todd ostal v Texase, pretože si musel dorobiť maturitný ročník. Talent nenechal na seba dlho čakať, Jennifer sa presadila na jednom zo svojich prvých konkurzov. Získala miesto v reklame a neskôr v roku 1984 aj miesto v Disneyho filme Kids Incoportorated. Bola to jej prvá veľká filmová úloha síce ešte v detskom, ale predsa v šoubiznise. Hewittová prešla niekoľkými televíznymi projektami, až kým v roku 1995 konečne obdržala rolu pre veľký seriál The Party of Five, ktorý sa donedávna vysielal aj na STV. Správna päťka vyniesla Jenninu hviezdu do závratných výšok. Zrazu začala byť idolom mladých po celom svete. Úspech potvrdili aj projekty Viem, čo ste urobili minulé leto 1, 2 (I Know What You Did Last Summer, I Still Know What You Did Last Summer), Can´t Hardly Wait a Heartbreakers, v ktorom si zlomila prst pri pokuse skočiť do bazéna rybičku.
Zaujímavosťou je, že Jennifer veľmi obdivuje svoju hereckú kolegyňu Gwyneth Paltrowovú. Deň pred nocou, keď Gwyneth v roku 1999 získala Oskara jej Jenn poslala tri dózy s ružami a dvojstránkovým listom, kde sa jej zverila, ako veľmi ju obdivuje a pokladá ju za svoj herecký idol. O týždeň prišla odpoveď od Gwyneth. List si Hewittová dala zarámovať a považuje ho za svoju najobľúbenejšiu vec. Keď sa v roku 2000 stretli ako herecké kolegyne na odovzdávaní cien Golden Globes, Jennifer skoro dostala infarkt, keď k nej Gwyneth podišla a objala ju. Odvtedy sú dobrými kamarátkami.

Iba 159 centimetrová herečka Jennifer stále obdivuje rovnako a raz by sa jej určite chcela vyrovnať, čo sa týka hereckého umenia. V kútiku duše totiž túži po Oskarovi.
životopis je zo stránky: http://www.kinoserver.sk/---osobnosti-jennifer-love-hewittova--idmaincat-je-6-x-id-je-14381

Komentáře
Přehled komentářů
---
---